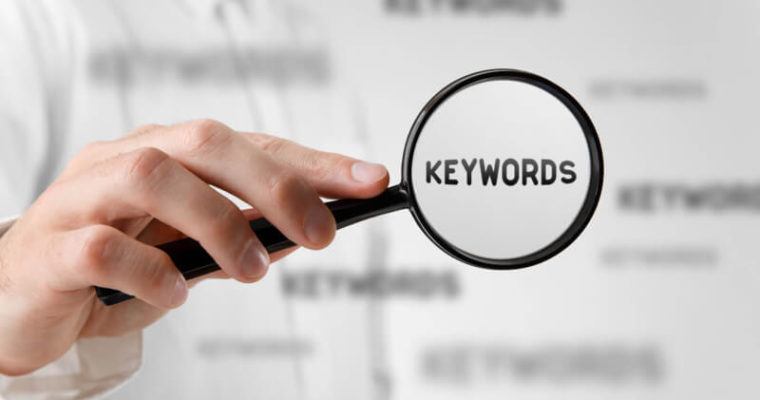 Any well invested online entrepreneur knows the importance of using a keyword search tool, If you are just starting out online and are still wondering "what is A keyword search Tool?", I am about to tell you.
What's A Keyword Search Tool Used For?
A keyword search tool is a tool we use online, to find out what our target market is looking up, or searching for on Google, Yahoo, or Bing. Depending on the type of keyword search tool you are using, It can also tell us how many times people are typing these searches into Google, as well as other vital information, like Competition for that keyword, Other variables, or related keywords based around your chosen keyword.
Keywords help us target and narrow down who we want to be marketing to, this saves us time, money and brings higher conversions.
How We Use Keywords
The most common use of keywords is in blogs, Blogging is one thing…Blogging without direction from keywords is another.
Blogging for free traffic is one of my favorite online marketing strategies.
When we write a blog, we are directing this blog to a specific market, for example…
If my website was based around the niche motorbike helmets,  I could write an article/blog on different kinds of motorbike helmets,
If I wrote this blog without using a keyword search tool, I would write up the blog with the heading "Different Kinds Of Motorbike Helmets"
Now if I was to use a keyword tool, I typed in the words " Different Kinds Of Motorbike Helmets " The results may come back 1 person per month is typing this into Google, so you would be writing this article/blog in hope that this 1 person per month finds it.
The results will also tell us what other relater words are being used and how many times per month they are searched,
So our keyword is " Different kinds of motorbike helmets" which had 1 person per month traffic
The keyword tool may tell us related keywords like…
Best Motorbike helmet – 2480 per month traffic
Safest motorbike helmet – 3652 per month traffic
Different kinds of crazy motorbike helmets – 368 per month traffic
Even just by adding in the word CRAZY would mean this blog, at best could be receiving on average 368 people looking at it every month. Without it, we would only get 1. Or you can write a blog using one of the more high traffic keywords ( usually this keyword will be harder to rank for )
For those that don't know…The "ranking" is where your article/blog is ranked in Google search pages. If you write an excellent blog full of great information and laid out how Google likes it, Your chances to rank on page one of Google increase dramatically.
What Is Keyword Searching
Keyword searching is something I do on a regular basis, This brings insight into what my target market is after, changes in trends/popularity, digging deeper into the rabbit hole, Fishing out your market, or finding where you should be directing your attention to.
I have lost track of all the times I have thought of a good keyword to write about, and then after researching, finding a whole different set of words and phrases only to leave my original keyword behind.
A little example of "What Is Keyword Searching"… if I was wanting to write an article/blog…on say…paint scrapers, I would use a keyword search tool like Jaaxy, and let Jaaxy tell me all the related keywords that I may be interested in,
So I would type into my Jaaxy keyword tool to start some keyword searching. These are the results…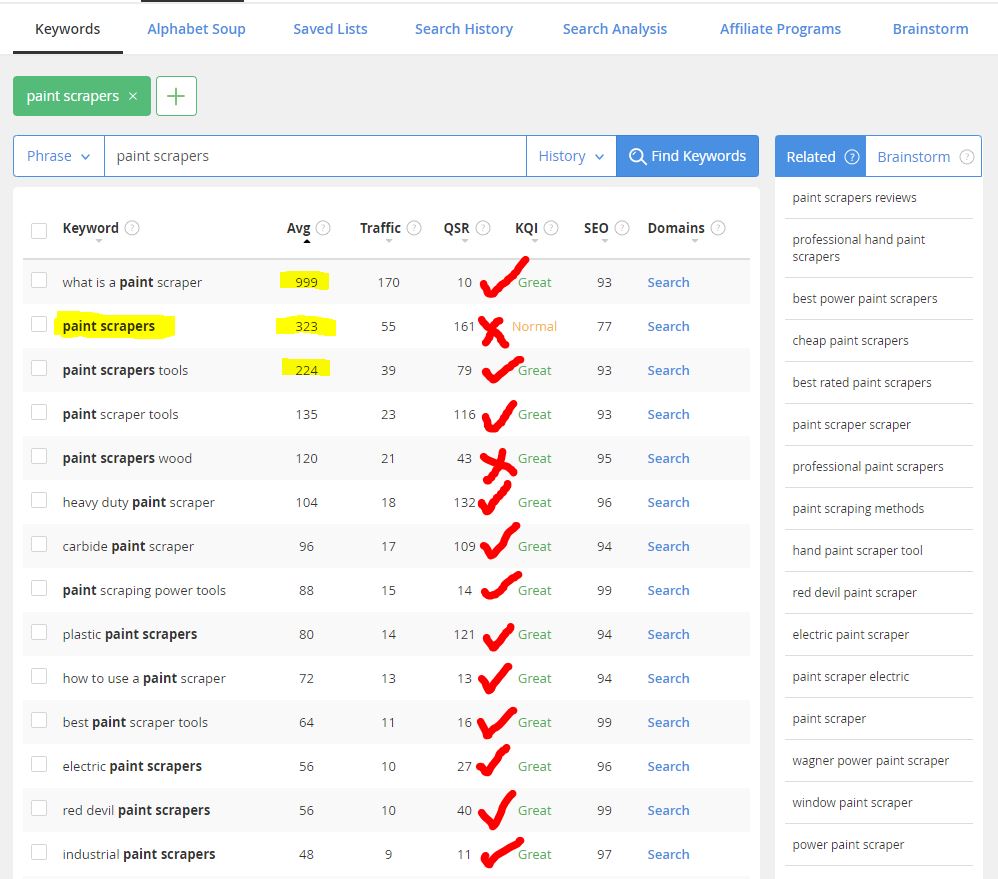 I must admit I was a little shocked at the results, Lots of potential…
After I sorted them from highest to lowest in traffic per month, Paint scrapers were not the most common searched term, "What is a paint scraper" has way more traffic and an Extremely low QSR score which tells me there is not much competition for that keyword.
A rundown of the Jaaxy Collums.
Ave = the average amount of people typing that keyword into Google search
Traffic = the amount of traffic on average you will see to your website/blog if you rank on page 1 of Google
QSR = (Quoted search results) the number of websites competing for the exact search term.
KQI = ( Keyword Quality Indicator ) How good your chances are of ranking on Google page one for that keyword.
SEO ( Search engine optimization score ) The closer to 100 that keyword score is the more likely you are to rank on Google page one.
"What is a paint scraper" is the number one choice to start your blog with.
It has a high amount of traffic searching for it every month, 999 times.
Only 10 websites trying to rank for this keyword ( QSR ) and your chances are Looking great to 93% chance of ranking on page one for that keyword.
To increase your chances of ranking, I would use lower ranking keywords as my subheadings.
For example…
My blog would be titled " WHAT IS A PAINT SCRAPER?" with a paragraph containing that keyword again.
My next subheading could be " How To Use A Paint Scraper " followed by a few paragraphs etc
The next subheading could be  " Paint Scraper Tools " followed by paragraphs etc
Both of these keywords both have a low QSR score and are both very related to your main heading " WHAT IS A PAINT SCRAPER?" Google Loves This 🙂
How To Find Keywords For A Website
Finding Keywords For A Website is very much the same as keyword searching. If your website was focused on " Laptop " I would start with exactly that "Laptops".
These are the results for the search Laptops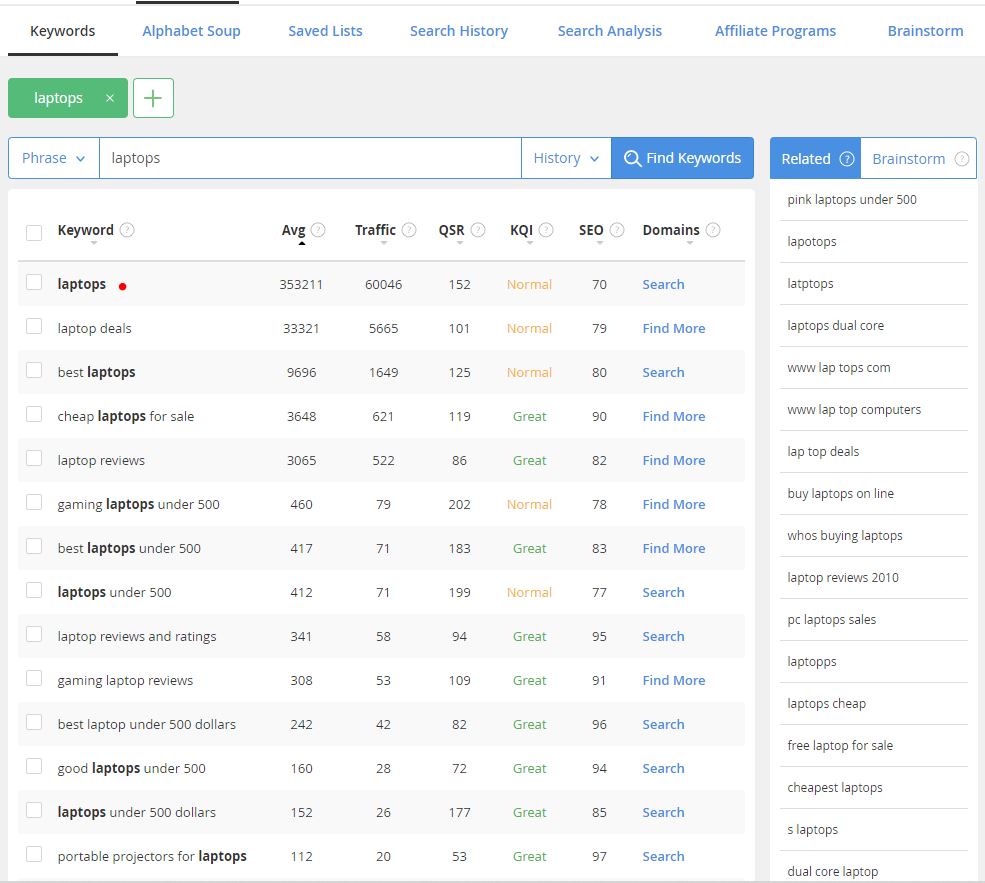 Wow… that's a lot of searches every month but has way too much competition to try and rank under "laptop" as a keyword.
So now I would start digging deeper into the rabbit hole.
Out of all the keywords here, these are the ones I would look into further…
Laptop Reviews
Best laptop under 500 dollars
Good laptops under 500
Portable projectors for laptops
If we click on any of the keywords listed, Jaaxy will do another search based on that keyword,
For this example, I will choose " Portable projectors for laptops.
These are the results…bellow
Wow, there are some gold mines in there. Some excellent keywords found just after looking up one keyword and then digging in a little more.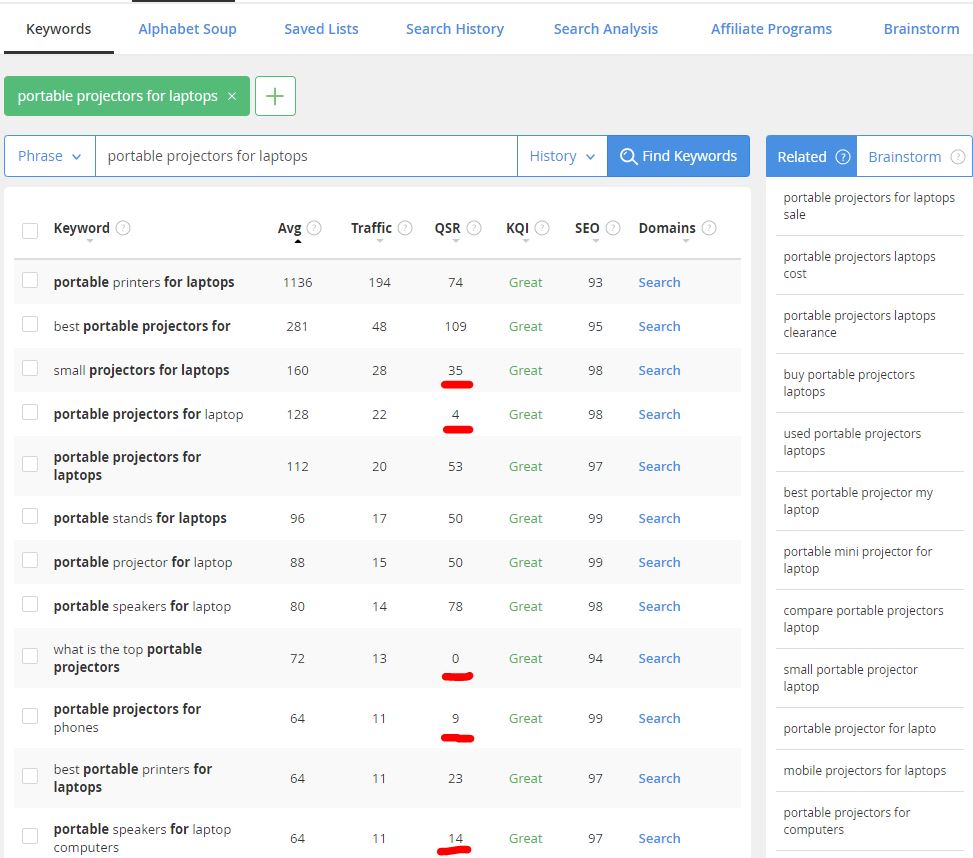 How To Find Keywords For SEO
How to find words for SEO is a need for any online marketer, blogger, researcher, to be honest anyone who is online for any reason could very much benefit from using a keyword tool like Jaaxy. No matter what you are doing online. you want people to be finding your website, and keywords are a huge part of that lifeline.
Search engine optimization is something that is built up over time, Having said that, you should have a list of all your main keywords for your website, targeting your main topic. If my website was based around cats… my main keywords might be…
Cats
Cat food
Cat beds
Cat toys
Types of cats
Looking after cats
Buy a cat
There would be loads more keywords (probably hundreds) but I hope you get the idea. This list is your main website SEO keyword list.
As you build out your website you will have articles/blogs on all these keywords, and have subheadings ( Other related keywords ) in these blogs.
So if I chose to write an article/blog on "cat toys" I would Use cats toys as a heading, and then use keywords from Jaaxy based off the keyword search term "Cats toys"
Naturally, when you write your blogs, you will be using keywords that you don't even know you are using, This is great as it makes your website more important and related to your topic or website nitch. Google loves this.
The Best Keyword Search Tool
Without a doubt in my mind, the best keyword search tool is Jaaxy, I cannot look past the proof and facts that I have personally had and found.
I will show you my results after using Jaaxy for just a few weeks, This was one of the big turning points in my online journeys, Trust me…when you get results like this, you get even more inspired to keep going and grow your online business.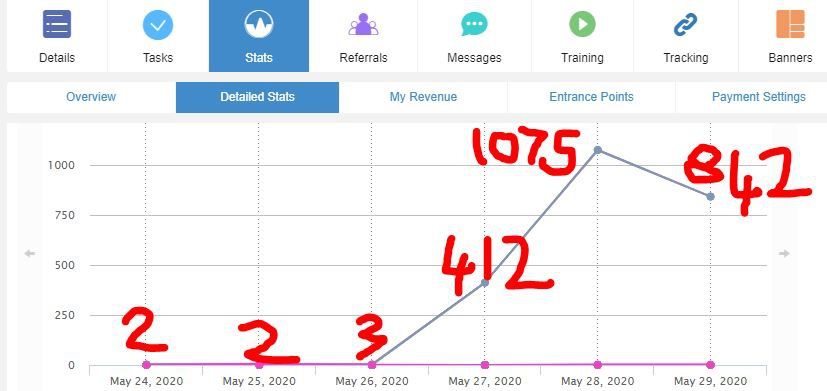 Jaaxy is owned by the same two guys that own Wealthy Affiliate, A huge online Affiliate Marketing University that teaches people how to earn a passive income online, from anywhere in the world. This is where I studied and I would recommend it to anyone.
Through the training, they teach you how to market online, and write blogs that will rank in Google, as well as teach you about Jaaxy and keywords.
The training is priceless and you can get started here for free, And if you like what you are doing you can upgrade to Wealthy Affiliates Premium plan which is $49 per month, and with the premium membership you will also get the Jaaxy Pro membership plan.
Find out more on Wealthy Affiliate Here
Jaaxy Free Membership Plan
You can try Jaaxy absolutely free ( No Credit Card Needed ) Limited to 30 searches but this is perfect for anyone starting out with keyword research and wants to test before they buy.
30 Keyword Searches
20 Search Results
Website Analyzer
Affiliate Program Finder
Keyword List Manager
Brainstorm Idea Feed
Keyword Competition Data
1x Speed
Affiliate Program
30 Site Rank Analysis Scans
Jaaxy Pro Membership Plan
This is by far the most popular account plan, Has everything included to start giving your online business the results it needs.
Sortable Search Results
Search Analysis
Manual QSR Search
Manual Domain Search
Alphabet Soup (15/letter)
2x Multi-Threaded Search
2K Site Rank Analysis Scans
Jaaxy Enterprise Membership Plan
The enterprise membership is for the well-established business that needs fast accurate information. Super Fast, Super accurate, and definitely well priced.
35 Search Results
5x Speed
Automated QSR
Automated Domain Search
Alphabet Soup (50/letter)
5x Multi-Threaded Search
Unlimited Keyword Lists
10K Site Rank Analysis Scans
The free membership is limited to 30 free searches, This is where most people will start. I will leave you with the Jaaxy search box for you to have a go with.
The Jaaxy Pro membership plan is the most common, Unlimited keyword searches, loads of other keyword tools, and as I mentioned earlier, If you join Wealthy Affiliate you will get the Jaxxy Pro plan as well as the training and other tools/information to really excel your online business.
With both Wealthy Affiliate and the Jaaxy keyword research tool, you have everything you need to not only make money online but how to grow and scale your online business, as well as PPC ( Pay Per Click ) advertising, social media advertising, and content marketing
Other Jaaxy Features
 – Let Jaaxy compile a list of ideas based around your desired Keyword or niche, I did not think I would use this feature when I first started using Jaaxy, So it happens I have used it and it has proved to be quite helpful
 – Organization goes a long way when being time-efficient, Save all your keywords into organized lists for you to go back and use later on, or for a quick reference of what keywords you have used
– Forgotten what you have searched before, Jaaxy hasn't. Easily access past searches as a quick guide to what you have already searched or to revisit and re-target
– This shows you the top websites for a selected keyword. Easily find competitors and see how they are operating. This is a great way to secretly spy on your competitors, and see exactly what they are doing that is making them one of the best
– Enter a keyword and have Jaaxy bring up a list of all the affiliate programs based around your keyword, For example, if I typed in the keyword "Dart Boards" Jaaxy would show me a list of all Affiliate Programs that I can join up to and sell their dartboards
– Brainstorm – This is great if you have a bunch of ideas but are running short of time. Save your ideas and search them up at a later date.
Summary Of Jaaxy And Keyword Research
Any online business would benefit from using a keyword search tool like Jaaxy. The information Jaaxy provides is priceless to anyone trying to rapidly grow their online business.
Keyword research has taken me from next to no traffic to well over 1000 clicks…all over the space of about 3 -4 days.
I was able to understand where my target market was coming from, and what it was exactly that they wanted.
If you are starting online, or are an existing online business that wants more traffic, don't waste any more time and start using Jaaxy, IT WILL MAKE A WORLD OF DIFFERENCE…ESPECIALLY WITH PRACTISE.
I hope this article has helped you reach a better understanding of keywords and how they can really help your online business.
As always any questions or comments please do leave below and I will be sure to read and/or reply 🙂