After having experience with word press and drag and drop website design platforms, I will try not to make this both a comparison review and also a Weebly site builder review to inform you of the good …And the bad aspects of Weebly.com this is my personal Weebly Website builder review
Product Details

Address – Weebly.com
Website Drag and drop website builder
Price – Free Plan – Connect – Starter – Pro – Business
Overall Rating – 4.9 / 5
User friendly – 4.8 / 5
Help / customer support – 5/5
About Weebly
Weebly started in 2007 and now helps millions of businesses and host more than 50 million websites around the world. Weebly is based in San Francisco and have offices in New York, Scottsdale, and Toronto. Their ultimate goal was to give everyday people with no computer skills an easy to use, drag, and drop website building platform. By far have they exceeded expectations
What Weebly Offer
Weebly offers a variety of memberships tailored to suit everyone's different needs when it comes to building an online website. They offer a simple to use drag'n drop website style back office, meaning almost all the hard work is done for you.
There is a free membership option and this can be a very good way to get incite into building websites, and an excellent way to start a low-cost business that still looks professional.
All in all an excellent FREE place to learn website design
Main good points about Weebly.com
A very easy to use drag'n drop website builder
Beautiful to professional website templates to start from
Free membership plan ( Limited features )
4 different paid plan options
Image editor
Custom fonts
Bad points about Weebly.com
I have to be completely honest… I don't have anything bad to say about Weebly. It has done everything I have needed it for and I think I have only needed system help once, however that was most likely my error when I was first learning.
Weebly's Drag'N Drop Feature
Kids can do this. This is literally like … Grab the title icon and put it on the page where you want the title to go, Grab the image icon and put it on the page where you want the image to go. It really does not get simpler than that.
When I first started with website design I was off work with a herniated disc and after spending allot more time online, I found Weebly, It was simple, I was off work and board, and better yet it was free. Their back-office website builder platform is simply laid out and is crazy easy to use. And after a few days of " What I would call stuffing around on it " I was able to have a fully built website with pages, Images, Links. I was very proud… Allot has changed since then,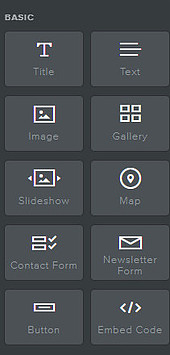 Bold Title headings
Text and paragraphs
Images
Gallery template
Slide shows
Google Maps
Contact forms
Newsletter Forms
Display Buttons
Embed code
youtube videos
E-commerce and shopping
site protection
Survey forms
Loads of compatible plugins
there are a few more, Everything you need is there to start and run any kind of online or offline business. Not all the themes are available within the free membership plan, and the free plan is not shown here in this list.
Training
Now there is always the helpline or help chat, as well as there written instructional tutorials but YouTube has once again has been the best for helping out with certain situations, It can also be a frustrating waste of time, Youtube is the best place to start if you need help, It is fairly easy to navigate and figure out on your own accord, but sometimes a few tips and tricks can speed up the overall process and outcome.
My Overall Weebly Website Builder Review
Weebly was one of the first website building platforms that I grew to use on a daily bases. In my opinion, Weebly is a great place to start learning how to build a website. It is easy to understand ( No coding involved ) and you cannot really stuff things up. Even kids could build websites with it.
Their back-office is so user-friendly kids are able and are making their own websites with it.
If anyone needs help or advice with Weebly please don't hesitate to leave your comments or questions below and I will be sure to get back to you when I can.
If you are more focused on a blogging website hosting platform Try SiteRubix, this is another excellent word pres platform that may be another alternative to Weebly for you. SiteRubix is owned by Wealthy Affiliate, An online Affiliate Marketing Training University…Find Out More Here